We are proud to serve Starbucks again
12th Sep 2022
| By Leicester Services Partnership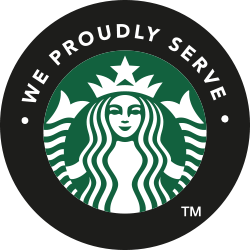 Works are now complete on our We Proudly Serve Starbucks outlet and we will be reopening on Tuesday 13th September 2022.
Starbucks in the Percy Gee Building temporarily closed in July to be able to make positive changes to the service. The upgrade includes new equipment, signage and comprehensive staff training to provide a better customer experience.
Being a We Proudly Serve Starbucks outlet, you will now be able to enjoy more from our food menu, new hot drink additions, all while still enjoying your favourite hot and cold specialty drinks, such as our pumpkin spice latte.
To commemorate the reopening of our popular outlet, all customers can get a free upgrade from a Grande to a Venti on a white mocha (contains dairy), americano, latte or cappuccino until 12pm on Tuesday 13th September.
The added benefit of this outlet is even if you don't see it on the menu, if we have it in stock, we can customise your favourite drink, we definitely recommend the S'mores hot chocolate.
Opening times:  
Out of Term
Monday – Friday
8am – 2pm
Term Time
Monday – Friday
8.30am – 4.30pm
www.yourlsp.com/outlets/we-proudly-serve-starbucks/