Win Your Lunch Competition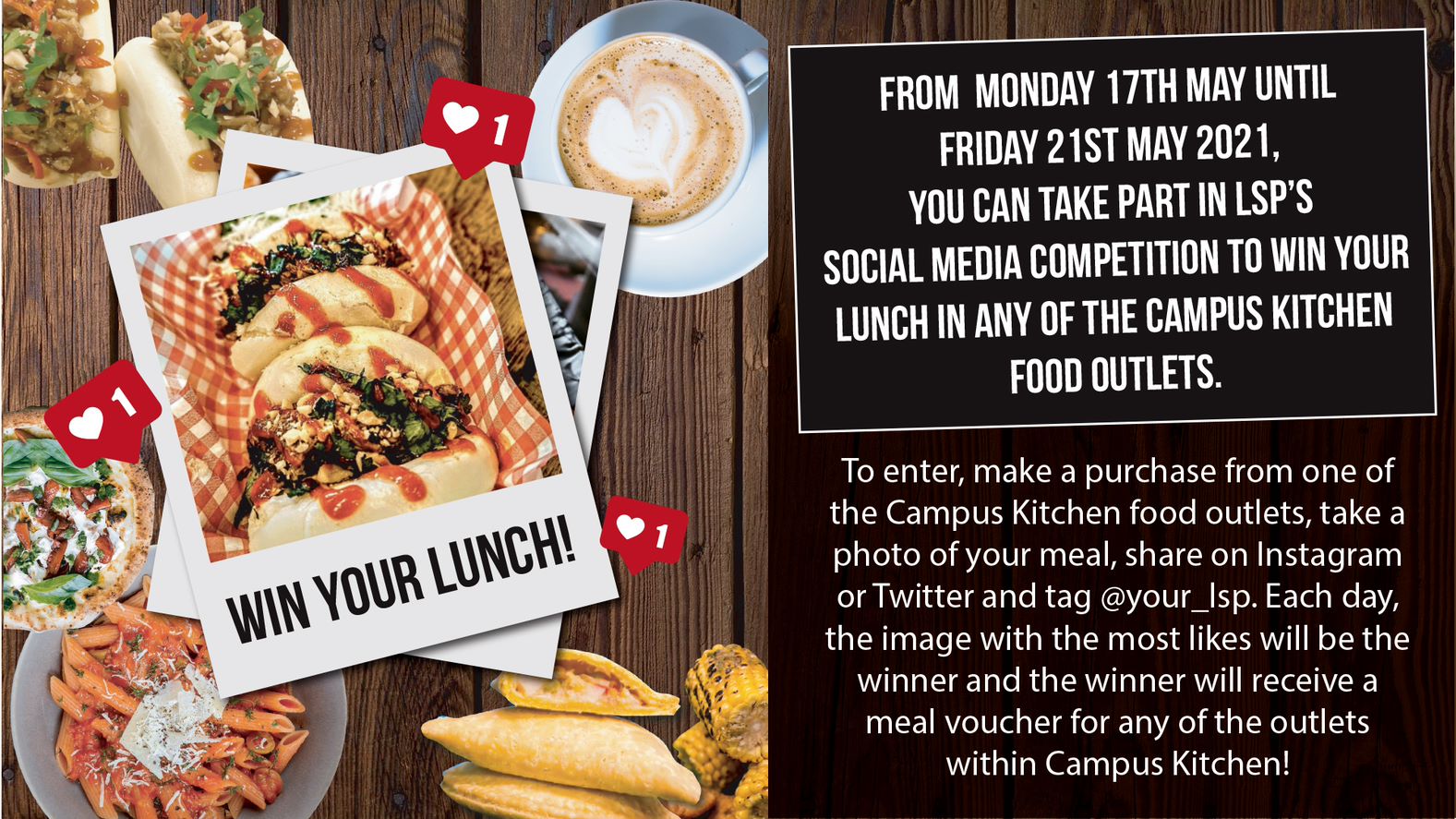 Terms and Conditions
The following are the Terms and Conditions for competitions which is operated by Leicester Services Partnership Limited, company registration number 10524556, whose registered office is Percy Gee Building, University Road, University of Leicester LE1 7RH ("Our", "Us" and "We)
1 Eligibility
1.1 To enter this or any prize competitions created by Us, you must:
(a) Be a resident in the United Kingdom
(b) Be able to comply with all the Terms and Conditions; and
(c) Be a student or staff at the University of Leicester, Leicester Services Partnership.
2 Entry Requirements
2.1 To enter the prize competition, you need to follow the instructions set out in the relevant prize promotion notice.
(a) Entries to this prize competition must be received by Us between the dates and times specified above.
2.2 There is no charge to enter this prize promotion. You will only be required to pay for the cost of your meal purchase in Campus Kitchen food outlets only.
3 Judging/Selection of Winner
3.1 In respect of all competitions and prize draws, We will review all entries received by Us which comply with the Terms and Conditions.
3.2 Winners will be selected on the highest number of likes on either Instagram or Twitter and winners will be notified within a reasonable time after the closing date via direct message over social media and confirmed by university email address given only.
3.3 We will not be held responsible if Our email is sent to your junk email folder, you do not acknowledge your win, or you do not see our direct message over social media channels (Instagram or Twitter) or any other factors once an email or direct message over social media channels from Us is sent to you. We shall be entitled to withdraw your selection as winner, and We shall have the right to select an alternative winner on Our absolute discretion. 
3.4 There will be a maximum of five (5) winners.
3.5 We reserve the right to disqualify you from this or any prize competition if we have reasonable grounds to believe that you have breached any of these Terms and Conditions. 
3.6 The competition runs from Monday 17th May – Friday 21st May 2021.
4 Winner 
4.1 You agree that if you are a winner: 
(a) you consent to Us using your name and/or image in Our publicity for the Prize competition and in such promotional materials as We see fit whether now or in the future in print and digitally. 
(b) you agree that you will not be entitled to any payment for such use. 
(c) you cannot use your winning voucher or any other vouchers to enter the competition. You must purchase your meal as per the terms and conditions.
5 Final Decision
5.1 In all matters Our decision will be final and no correspondence or discussion shall be entered into with you or any other party on your behalf regarding the process or details of such decision. 
6 Enquiries
6.1 For all enquiries, comments, feedback, or further information please contact info@yourlsp.com
7 The Prize
7.1 For taking part in the competition named above, each winner will need to adhere to the following:
(a) You are required to make a meal purchase in one of Campus Kitchen food outlets only.
(b) You are required to take a photo image of your meal purchase, share the photo on your Instagram feed (not stories) and/or Twitter. You must tag @your_lsp before you share via social media channels to be entered into the competition.
(c) Each day, the individual whose tagged photo on either Instagram or Twitter has the most likes will be the winner for that day only. A new image needs to be submitted each day to enter the competition.
7.2 The winning meal voucher issued as the prize, can only be redeemed in one of the Campus Kitchen food outlets only.
7.3 The meal voucher cannot be exchanged for an alternative.
7.4 Each competition voucher is only valid for one transaction up to the monetary value stated, each voucher holds no cash value until it is spent in a Campus Kitchen outlet and no change will be given at time of transaction.
7.5 The voucher must be handed over to the Leicester Services Partnership (LSP) till operator at time of transaction and redeemed before expiration on Friday 30th July 2021.
7.6 Winning vouchers that have been forged, defaced or otherwise tampered with will not be valid for use.
7.7 Once notified of how to collect your winning meal voucher, collection must take place within one (1) week of notice from LSP.
7.8 LSP holds no responsibility if a winner hasn't confirmed collection of prize(s).
7.9 As a result of the contacted winner(s) not collecting their prize, LSP reserves the right to deem the winner(s) null and void and the prize(s) may be offered to another participant.
8 Competition
8.1 No staff member of LSP (Leicester Services Partnership) can partake in the competition.
8.2 The following paragraphs are to set out the data protection rules we abide by:
(a) Data protection: Information which identifies you (personal data) collected will only be seen by LSP Marketing and Communications Executive team.