Celebrating Milestone Achievements
29th Jun 2023
| By Leicester Services Partnership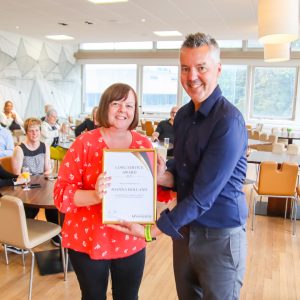 (From left to right): Jo Holland and Gavin Brown.
Launching our Long Service Recognition scheme this month, on Tuesday 27th June 2023, in the Staff and Postgraduate Restaurant – Charles Wilson Building, we hosted our first event of this kind, celebrating LSP staff who have dedicated 20+ years of catering services to The University of Leicester.
The event was held as a thank you and recognition of contribution to 11 members of staff, who have reached this milestone:
Joanna Holland
Julie Dicks
Karen Kewmoss
Jackie Owen
Rosie Weston
Thyra Southwell
Ross Hearst
Rubiela Rojas
Alexandra Stenning
Christopher Wozniakiewicz
Craig Dennis
Letters of invite were sent out to all LSP staff if they wished to attend, and those who arrived were greeted with a choice of alcoholic and non-alcoholic beverages to cheers to their colleagues, great company, moreish canapes and decadent desserts.
After speeches from the CEO Gavin Brown and Director of Operations, Rob Bean, each recipient was presented by Gavin with a gold-framed certificate to mark their achievement, a commemorative badge and a locally sourced, delicately gift-wrapped hamper.
Jo Holland, Section Manager: Retail & Hospitality, who is our longest serving member of staff, said: "Thank you so much! It was truly lovely, the canapes were delicious, and the drinks were extra special, and was appreciated by everyone, and to take home this gorgeous hamper and a cupcake, topped it all off!"
We are looking forward to celebrating more colleagues, when they have reached this milestone.