Halal Food on Campus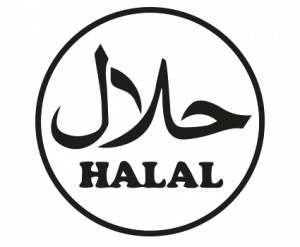 The University of Leicester is a multicultural community with students, staff and visitors who have differing religious and non-religious beliefs and ethics. In line with the University Plan, Equality and Diversity Policy, we are committed to ensuring that services provided meet the needs of this diverse community.
If you have any questions regarding halal food at an outlet, please ask one of our staff members who will be happy to answer any queries.
When visiting any of our food outlets, you are able to find out more about the halal food we sell by scanning the QR code using your mobile device. It's quick, easy and you'll have the information right in your hand. Just look out for this sticker in our outlets.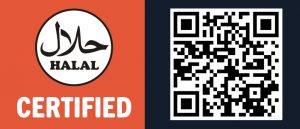 We pride ourselves in delivering a variety of food options to the diverse student, staff and visitor community.
LOOKING FOR HALAL FOOD ON CAMPUS
YOU CAN ENJOY ALL OF THE BELOW FROM OUR OUTLETS SHOW HERE
Atrium / Attenborough Café / Library Café/ The IV
Jacket potatoes
Fill up with these hot and cold fillings on your fluffy jacket potato.
Butter (GF)
Baked beans (Ve) (GF)
Grated cheese (V) (GF)
Tuna mayonnaise (GF)
Light Bites
Grab & Go:
Cheese & onion rolls (V)
Paninis
Hot, toasted baguettes with melted cheese and a variety of fillings to choose from. Meat and vegetarian options available.
£3.50 Meal Deal
Take advantage of our meal deal offer.
Any sandwich or wrap (including halal) + Walkers crisps or piece of fruit + any 330ml can or 500ml bottle of water.
Soup Of The Day
Flavour range:
Carrot & Coriander
Seasonal Vegetable
Tomato & Basil
Minted Pea & Potato
Butternut Squash & Sweet Potato
Leek & Potato
Add a white or brown bread roll for dipping!
Visit to see today's flavour in outlet.
*All menu items is subject to availability.
Queens
Freshly Made Pizzas
TOMATO & BASIL (V)
BUFFALO CHICK'N (VE)
Hand stretched pizza dough, topped with fresh tomato sauce, plant-based buffalo style chick'n strips, vegan mozzarella cheese and finished with barbecue sauce.
GARLIC BREAD (V)
Uniquely hand stretched dough, brushed with garlic butter and finished in the pizza oven.
GARLIC BREAD & CHEESE
Uniquely hand stretched dough, brushed with garlic butter, topped with mozzarella cheese and finished in the pizza oven.
FRESHLY MADE PASTA
TOMATO & BASIL PASTA (V)
Fresh penne pasta tossed in a fresh tomato and basil sauce, topped with a rocket garnish.
(Vegan cheese available upon request).
Astrovan
VALUE CHIPS
PLAIN & SIMPLE (V)
Chunky chips with the option of salt & vinegar.
CHEESY CHIPS (V)
Skinny fries topped with hot cheese sauce.
CHIPS & CURRY SAUCE (V)
Skinny fries topped with Chip Shop curry sauce.
LOADED FRIES
CHIPPY DREAM (V)
Chips dusted with salt and vinegar seasoning, crispy beer battered "scraps" topped with tasty, thick chip shop gravy and a mushy peas dressing
BIG CHEESE (V)
Dusted with smoked salt and cracked black pepper and parmesan, smothered in cheese sauce, finished with crispy fried onions, and chopped chives.
Soul
Main Dishes
A CARIBBEAN CLASSIC
Curried mutton, scotch bonnet chillies and spices give this original dish a punch. Served with rice and peas.
RUN DOWN CURRY (V)
Coconut classic spiced stew with plantain and roasted veg, served with rice and peas.
REGGAE REGGAE MAC & CHEESE (V)
Macaroni in a tangy cheese sauce, topped with a crispy onion, breadcrumb, cheese and herb topping and finished with Reggae Reggae drizzle.
You can add a topper of your choice:
– Fiery fish fillet
– Jerk Chicken
– Coconut Run Down (Ve)
*Please note the Mac & Cheese itself is not vegan.
JERK CHICKEN FLATBREAD
Large flatbread topped with rice and peas, jerk chicken pieces, crispy salad leaves and mango salsa and finished with reggae reggae sauce.
Grab & Go
SWEET POTATO WEDGES (V)
RICE & PEAS (V)
Fluffy rice and red beans with lightly spiced flavours.
JERK CHICKEN WINGS
Lip smacking spiced wings grilled for the ultimate snack.
– Two wings
– Ten wings
Wholesome In Partnership with The Pantry
Tasty Main Dishes
Meal Deal:
Bombay toasted sandwich with Masala sweet potato wedges. (Ve)
Chickpea & spinach curry served with rice. (Ve)
Potato & pea curry served with rice. (Ve)
Mixed Vegetable Curry
(Broccoli, Cauliflower, Potato, Pea & Carrot)
served with rice. (Ve)
Buddha Bowls
(Please ask for today's special).
Grab & Go
Vegetable Samosa (Ve)