Sustainability shop closed
12th Jun 2023
| By Leicester Services Partnership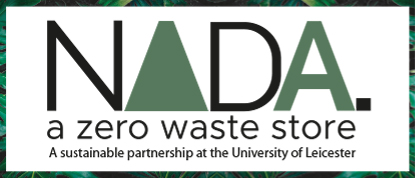 NADA located on the corner of the Percy Gee Building is now closed for good.
It was with a heavy heart for Lauren (owner of NADA) to close this store front.
Lauren said: "Most importantly I will miss the customers. They have been so supportive especially when I first moved on to the University campus. From University staff and students to visitors off campus, you have made me and my team feel so welcomed and have the same love for all things sustainability."
She continued: "It is goodbye for now and hopefully we'll be back in the future, as having a positive impact on the environment is not something we can forget about."
Though NADA is now closed, we still adhere to our ethical catering commitment. To view our Sustainable Food Policy or any other of our policies and assurances, visit our Ethical Catering webpage.