Starbucks refresh
19th Jul 2022
| By Leicester Services Partnership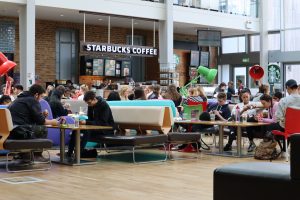 Don't worry, we'll be back soon!
We are making some exciting changes to Starbucks in the Percy Gee Building.
Therefore the last day of operation will be Friday 29th July 2022 and will reopen early September.
You can look forward to some new and exciting items on the menu, plus all of your usual favourite drinks when the new store reopens.
Our customers are at the forefront of all that we do, by providing quality, fresh, sustainable and local food and drink, a professional and friendly service and engaging spaces for all staff, students and visitors.
We aim for all within the university to discover, explore and enjoy a great variety of food and retail options on campus. Our business is constantly growing and evolving to ensure each customer makes the most of their time at The University of Leicester.