World Vegan Month
12th Nov 2019
| By Leicester Services Partnership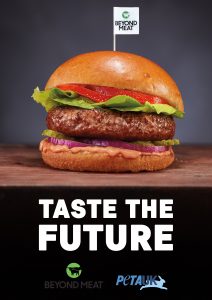 To celebrate World Vegan Month, PETA campus representative Holly Fonquernie, together with Leicester Services Partnership and fellow students from the University of Leicester, will team up with groundbreaking vegan food company Beyond Meat for an event titled "Taste the Future".
Join us in the SU Square, Percy Gee Building on Friday 15th November from 11:00am, where the reps will encourage passers-by to try an eco- and animal friendly meal by trying out the plant-based Beyond Meat burgers that we cooked and donated burger buns, along with handing out copies of PETA's free vegan starter kit to help people make the switch if they choose to do so.
Beyond Meat – creator of the Beyond Burger and winner of the UN Champions of the Earth award – is a great alternative for the millions of people seeking food choices that are better for animals and the planet. It delivers the taste of meat with 90% fewer greenhouse-gas emissions than a beef burger and the same amount of protein.
The University of Leicester is listed as one of PETA's Most Vegan-Friendly Universities. Our Indigo vegan café was set up in collaboration with the student vegan society. Located on the ground floor of the Rattray Lecture Theatre, main campus, and open Monday to Friday (term time), it offers a selection of tasty hot and cold food, like loaded nachos, freshly baked jacket potatoes, filled sandwiches and vegan chilli.
We are aligning our Climate change position with that of the University of Leicester. 
"The University of Leicester is taking a leading role in tackling the climate crisis by ensuring that delicious plant-based options are available to be enjoyed by meat-eaters, vegetarians, and vegans alike," says Dr Carys Bennett, senior corporate liaison at PETA. "This World Vegan Month and beyond, we encourage everyone to give Beyond Meat and other vegan options a try."