Good Night Out Accreditation
28th Nov 2019
| By Leicester Services Partnership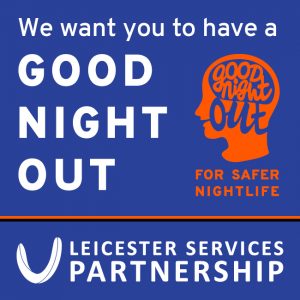 Experience has taught us that we need to work deeply together on a long-term basis to create change in a space.
Our accreditation is a simple, three step process to help you transform how a venue, pub, bar, or club responds to sexual harassment and assault. Official accreditation lasts for one year, but you're welcome to use our content for as long as it is useful to you! We encourage venues to undertake refresher training once a year.
1. Venue Agreement and Policy
First we look at what you're already doing, and provide a best practice policy document for your premises which includes in-depth information about legal aspects, licensing which you can adapt to your venue's needs. DPS or Premises manager signs a Venue Agreement with a series of action points
2. Training
Our core 1.5hr training session is entitled "Understanding and Responding to Sexual Harassment and Assault in Licensed Premises" and covers a range of key topics in a sensitive yet interactive way, for up to 25 participants in one sitting.
This is an interactive and accessible workshop delivered by sensitive but dynamic facilitators! The session is evaluated so we can share our outcomes with you, and builds a team-wide understanding of what GNO policy and procedure means for each member of staff's job description.
Themes addressed include:
What do we mean by sexual harassment and assault?
What's the best 'whole team' approach to handling sexual violence in a licensed space?
Racism, homophobia and sexual harassment?
What are the barriers to reporting an incident to a member of staff and how do we remove or reduce those barriers?
How can we help create an environment that doesn't tolerate harassment?
De-escalation techniques and responding carefully to shock and trauma
2. Communicating
We provide our full colour globally-recognised posters and a signed certificate for behind the bar, all of which help communicate a clear message that encourages reporting, let customers know your staff are trained appropriately, and can be co-branded with your logos.
Find out more here or drop us a line on info@goodnightoutcampaign.org to discuss getting accredited.