A message from the University
4th May 2022
| By Leicester Services Partnership


Popular on-campus eatery returns plus other changes to University catering
Following feedback from staff and students, the University is reopening Delicious, its Charles Wilson-based outlet serving hot and cold drinks as well as fresh food, including deli sandwiches, toasties, bagels and jacket potatoes, and the self-serve salad bar will be returning, too. The reopening of Delicious is just one of a series of changes to catering across the campus in a bid to provide a range of conveniently located services for both staff and students, as well as offer a diverse range of choice at affordable prices without increasing operating costs.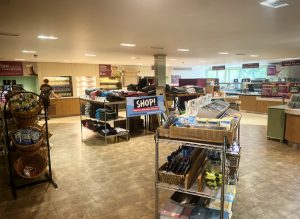 Campus Kitchen, the University's flagship food court based in the multi-million pound refurbished Percy Gee building, soft launched in May 2021 during the pandemic and social distancing restrictions. At the same time as Campus Kitchen launched, several other on-campus outlets including Chi, the Graduate Lounge and Oadby Food Court closed to mitigate the financial impact of reduced footfall on campus. Campus Kitchen became fully operational in October 2021 and since then the University and LSP have kept a close eye on what outlets are proving popular and further changes that need to be made.
Martyn Riddleston, Chief Operating Officer, explains some of the consumer insights gathered and how that's influenced the upcoming catering changes:
"Since the Government's COVID-19 restrictions came to an end, we've seen a change in the way our outlets are being used. Footfall on campus decreased drastically during the pandemic, which equally affected the catering services we had in operation. But as more staff are returning to campus, either full time or using the WorkSmart areas on campus, and students are learning in person once again, we decided it was time to take stock of the services we're providing to reflect the changing ways they're now being used.
"We received feedback from staff that they would benefit from a catering service closer to the WorkSmart areas in the Charles Wilson Building, as well as enquiries from students around additional affordable options that offer the same quality without limiting choice. The changes we're making to service take on board all of this information and balance staff and student needs with operational efficiency."
As well as the reopening of Delicious, the following changes will come into effect during the week beginning 3 May include:
· Pearls Bubble Tea is relocating from the Food Market to replace Craft Coffee House in Campus Kitchen.
· The Pantry (vegan Indian street food) is relocating from the Food Market to Wholesome in the downstairs of Campus Kitchen and will be a collaborative partnership.
· Queens (Italian inspired dishes) in Campus Kitchen is having a new counter installed to include hot lights to display pizzas by the slice and whole.
And the following will take place from the start of the new academic year:
· Soul (African and Caribbean inspired dished) in Campus Kitchen is adding a value and build-your-own-meal range.
· Astrovan (loaded fries and nachos) in Campus Kitchen is getting a menu revamp to speed up service and include a more value range.
Gavin Brown, CEO of Leicester Services Partnership (LSP), the University's catering and retail partners, said:
"Since LSP was created in 2017, our goal has always been to provide exciting, vibrant and current food options that are fresh, sustainable and, where possible, are sourced from local businesses. We pride ourselves on being customer-focused and making regular changes based on customer feedback. By making these changes we can ensure we're offering a faster service, more affordable options, more opportunities to tailor what you eat based on your personal preferences and that it's located where you need it to be.
"There will always be changes to make as trends come and go and the University changes how it operates, but we will always make sure that we take our customers' preferences onboard and offer the best experience possible."
To find out what's on the menu and to see what other places to eat and drink there are on campus, visit LSP's list of outlets.
FAQs
Why are these changes happening?
It is proposed that the current catering offer is reshaped further to provide a range of services that are conveniently located for staff, and students, offer a diverse range based on customer feedback, at affordable prices to suit every budget, without increasing operating costs.
Why have so many outlets closed?
The costs to operate many catering outlets does not provide the most cost-effective solution, and areas with low footfall, even with minimum fixed costs such as a single member of staff and limited opening times does not produce enough income to cover costs and therefore becomes a cost to group and the business.
How many outlets will there be across the University after these changes?
In total, there are 15 outlets across the University campus. Each outlet, menus, opening times and more can be found on the LSP website: www.yourlsp.com
With Craft Coffee House closed, where can I get barista-made coffee apart from Starbucks?
You can still purchase Craft coffee from all our coffee-led outlets, as it is a Fairtrade blend that was rolled out to provide coffee consistency and affordability. Barista-made coffees are available in Library Café – David Wilson Library, Craft Coffee Van – Centenary Square, ULSB Hub – Brookfield Campus, and Attenborough Café – Attenborough Arts Centre.
Find out more about Craft Coffee here.
I am a vegan, with Wholesome changing; will this mean there will be fewer vegan options?
Wholesome is working in partnership with The Pantry and the menu will still be 100% plant based. The Pantry serves authentic Indian flavours in a range of curries, wraps, hot snacks and Buddha bowls. More information about The Pantry can be found here.
There are also vegan options across all outlets across campus.
Will I be able to pay with UPAY and collect loyalty points when Delicious opens?
Yes, Delicious will operate in the same way as all outlets across campus, being a cashless outlet. You will still receive 5% back in loyalty points on £1+ purchases when you pay with UPAY.
To find out more about UPAY and to sign up, visit www.yourlsp.com/upay
Are there any changes to the outlets not mentioned?
All other outlets have no additional changes and service remains the same for all to enjoy.