University Chef of the Year Winner
10th May 2023
| By Leicester Services Partnership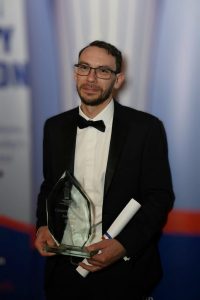 On Sunday 7th May 2023, our Senior Sous Chef Ashley Podgers received one of the most prestigious awards from the British Culinary Federation, the University Chef of the Year Award presented at The Grand Hotel in Birmingham.
The British Culinary Federation is the only internationally recognised Chefs organisation for England.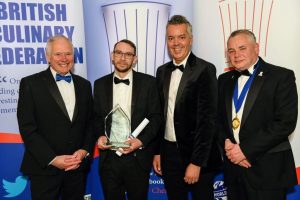 Ashley Podgers, LSP Senior Sous Chef said: "I was so overwhelmed with emotion when I heard my name to collect the University Chef of the Year Award. I love working at the University of Leicester, and within LSP we really are one big family. I've struggled all my life with dyslexia and sometimes it gets me down because I can't write the words that I want to, however, this win has given me a big boost in my life."
He added: "Being presented the award by our CEO Gavin Brown made the night even more special."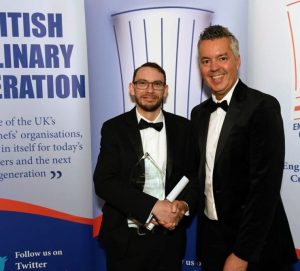 Ashley won based on a number of achievements including his strong work ethic, attention to detail, creative flair and dedication to his team, especially during the magnitude of the Graduation Celebrations of 2022.
Ashley has developed the operational running of the kitchen within the Percy Gee building to the highest of standards since it opened, giving the Head Chef the time to step away from the day-to-day, and take a more hands-off approach, to focus more on overseeing operations. 
Though taking on most of the day-to-day operations is part of a Sous Chef's responsibility, Ashley can add setting up the new ordering system 'Procure Wizard', populating the database with menu recipes and making better business decisions on inventory management, through precise comprehension of the software and streamlining procurement, to his list of achievements.  
Managing a team of 12, of Commis Chefs, Sous Chefs, Chef de Partie and an Apprentice, Ashley pushes his team, puts his trust in them and never stifles their creativity, by giving them the opportunity to showcase inspired proposals for hospitality dishes.   
Ashley makes it a point to step out of the kitchen from time-to-time to be present at some marketing taster campaigns, where he has led in adding specific dishes to menus based on customer research and data, as well as working with big external suppliers such as Quorn and Birds Eye.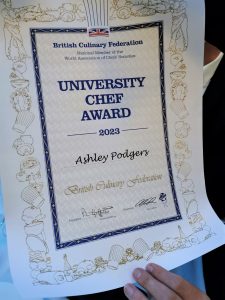 Rob Bean, LSP Director of Operations said: "To be recognised by the British Culinary Federation is a huge achievement for Ashley, and I am immensely proud of all that he has done and continue to do within LSP. I've seen first-hand how hard Ashley works, the dedication to his craft, and creativity in the dishes he produces, whether it's new menu items for our outlets across university campus, to the fine dining of hospitality events."
The BCF Annual Awards celebrates and rewards excellence in the culinary industry. The University Chef of the Year Award was sponsored by TUCO, The University Caterers Organisation.