Providing more value on campus
21st Sep 2023
| By Leicester Services Partnership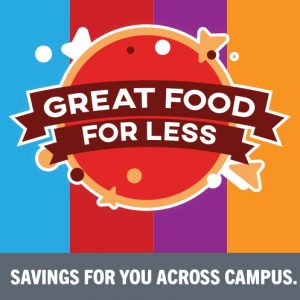 We have been working hard to keep prices as low as possible and continue to provide value for money on food and drink across campus especially in the current cost-of-living crisis affecting everyone. Our work includes discussion with both the Students' Union and University through engagement groups, data and feedback.
In an attempt to counteract the huge price rises nationally; on food and non-alcoholic beverages, higher energy bills forcing producers to hike prices on everyday staples such as milk, eggs and bread which influence costs at all stages of food production and distribution, we are absorbing some of that cost, so you can still benefit from a variety of value everyday items across campus. 
Great value items include your £3.85 sandwich or wrap meal deal. It is more inclusive than most other sandwich meal deals you might know, because based on staff and student feedback, the deal includes any sandwich or wrap, meaning more vegan, more halal and more gluten free options. Combining your sandwich or wrap with a packet of Walkers crisps or a piece of fruit plus any 330ml canned drink or 500ml bottle of water, you have the perfect meal deal offer. 
Boost your meal deal saving by paying for it using your UPAY loyalty reward, because with each £1+ purchase, you get rewarded with 5% back in loyalty points. Not only that, you will also be able to benefit from upcoming exclusive UPAY loyalty offers.  
Missing out on loyalty points? Sign up today and start getting rewarded.  
We have listened to your feedback and made sure to still provide value for money popular grab and go items, freshly made hot dishes, warming hot drinks and staple everyday items you like to buy. 
Other value items include: