The Staff and Postgraduate Restaurant has brought nostalgia to campus.
8th Dec 2022
| By Leicester Services Partnership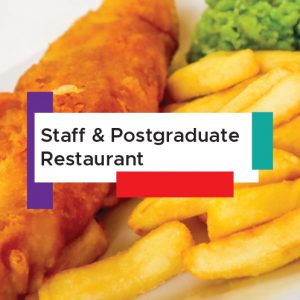 The festive season is upon us and staff and postgraduate students have already started to enjoy the Christmas lunches served in the Staff and Postgraduate restaurant on the first floor of the Charles Wilson Building.
If you have not already booked your Christmas lunch yet, all dates are fully booked except Friday 9th December, where some spaces are still available for last minute bookings. You can view the Christmas lunch menu here, as well as details of how to book.
As an added measure, if you do not want to book a Christmas lunch, for one day only on Friday 9th December, you can enjoy Week 1 Friday menu, which is available to view here or see below.
– Broccoli soup (Gluten Free/Vegan/Vegetarian).
– Beer battered fish (Sustainably sourced), mushy peas, chips, lemon wedge and tartar sauce (Gluten Free Available).
– Beef Madras with coriander rice, poppadom and pickles.
– Buttermilk chicken burger in a toasted bun, beef tomato, apple & celery slaw (Gluten Free).
– Bangkok Bad Boy burger with a sweet chilli sauce, baby gem lettuce and crispy onions (Vegan).
– Sticky toffee pudding
(Vegan pudding alternative available).
All chicken items are halal and fish is sustainably sourced. There is a variety of vegetarian and vegan options available.
This outlet's last day of operation is Friday 16th December 2022. It will then close for the Christmas period and will reopen Monday 9th January 2023.
When the restaurant reopens, you will be able to take advantage of the area opening from 10am to purchase hot drinks and benefit from a book swap corner, where you can bring a book and take a book, have an area for book club groups and read a selection of newspapers available every weekday. Hot food will still be available from 12pm – 2pm.
Due to a technical error, which is now rectified, you can benefit from using UPAY as a method of payment also in this restaurant. You can redeem your UPAY loyalty points here too. To start receiving the benefits of using UPAY, click here to sign up and find out more information about UPAY.