Black History Month – October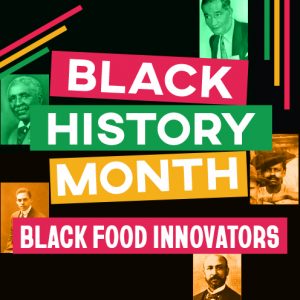 As part of Black History Month, we are celebrating Black food innovators and their contributions to better agricultural processes and food inspiration globally. We are proud to offer food which reflects and includes the flavours, ingredients and processes founded by Black food innovators.
In collaboration with the University's Equality, Diversity and Inclusion Team, for Black History Month, we are exploring Black stories from the past that have influenced the present through food.
See below a list of Innovators we would like to highlight and dishes they've influenced in our outlets:
Malinda Russell (1812 – 1866)
Printed in 1866, Malinda Russell is the author of the first complete African-American cookbook—A Domestic Cookbook: Containing a Careful Selection of Useful Receipts for the Kitchen.
Born in Tennessee around 1820, Russell was a free woman of colour descended from a grandmother who was an emancipated enslaved person. She worked as a cook for prominent families and ran a boarding house, pastry shop, and washhouse, and published her cookbook in an attempt to make enough money to return to Tennessee.
The cookbook's 39 pages with 250 brief recipes of food and home remedies offers insights into the food and culture of the time. It also challenges ingrained views of Black cuisine, particularly soul food.
Soul food available at Soul – Campus Kitchen, Percy Gee Building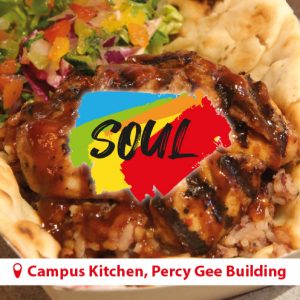 George Washington Carver (1861-1943)
Born a slave in 1861, George Washington Carver went on to become one of the most prolific agri-business inventors in American history. He invented crop rotation, and more than 300 uses for the peanut. including Worcestershire sauce, cooking oil, and cosmetics. His work is at the foundation of modern farming.
He was the first African American to earn a bachelor's in 1894, then a master's degree in agricultural science from what's now known as Iowa State University. Carver invented crop rotation. Farmers were struggling to grow anything after years of harvesting a single crop. Carver suggested they plant peanuts, soybeans, and sweet potatoes which would add nutrients to the depleted soil. This method gave farmers a second chance at becoming leaders in agricultural exports.
Soul – Campus Kitchen – Percy Gee Building, Main Campus – Sweet Potato Fries available here
The Pantry – Campus Kitchen – Percy Gee Building, Main Campus – Sweet Potato Fries available here

Frederick McKinley Jones (1893 – 1961)
Frederick McKinley Jones invented refrigerated trucks, which help food banks provide fresh produce and meat to their communities safely. And, because of his work, food banks can rely on our massive distribution network to transport fresh produce from farmers across the country on a regular basis.
His work revolutionized global logistics. It's at the heart of what's now known as "the supply chain." That is, he made it possible to transport perishable food safely from one place to the next.
A self-taught mechanic and World War I Army veteran, Jones received more than 60 patents for refrigeration as well as X-ray machines, engines and sound equipment. He was the first African American to receive the Presidential National Medal of Technology.
Community Kitchen – Lower Ground Level, Percy Gee Building, Main Campus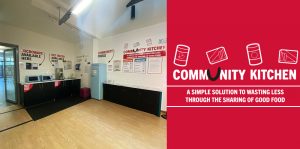 Nathan "Nearest" Green (1820-1890)
Known as "Uncle Nearest," Nathan Green was a skilled distiller who mastered the "Lincoln County" process. This method of distilling is thought by food historians and whiskey experts alike to have been brought in by slaves, and uses charcoal to filter and purify foods. The "Lincoln County" process, in particular, uses sugar maple charcoal to filter bourbon.
Green trained hired hand Jasper Newton Daniel (known to the world as "Jack Daniel") while working on a priest's distillery in Lynchburg, Tennessee. Daniel eventually made him the first master distiller of Jack Daniel's, the famous Tennessee whisky many people drink today.

Alfred L. Cralle (1866 – 1919)
Ice cream today would not be the same without the work of Alfred Cralle. Born just after the Civil War, he had an affinity for mechanics as a young age, and would go study at Wayland Seminary, a school set up after the Civil War to educate newly freed African-Americans.
Cralle would go on to work as a porter at a drugstore and a hotel in Philadelphia, and developed the idea of the ice cream scoop while watching people struggle using two different spoons to get the ice cream into cones. Cralle's mechanical invention, which is the basis of how ice cream scoops work to this day, was invented in 1897.
Delicious, Charles Wilson Building, Main Campus – Ice cream and ice poles available to buy here.

Joseph Lee (1848 – 1908)
Joseph Lee was one of the most influential people when it came to industrializing the way we make bread.
Having worked in a bakery from a young age, Lee eventually became the owner of two restaurants in Boston, as well as a hotel and a catering company. Looking to find a way to minimize bread waste, he eventually invented a machine that would convert day-old bread into breadcrumbs. Patented in 1895, he later sold the rights and the breadcrumb maker would spread across the world.
That wasn't Lee's only invention, however. He would later patent the idea for an automatic bread maker that mixed and kneaded the dough, the basis to the same devices (think, stand mixers) that we still use in our kitchens today.
£3.85 sandwich or wrap meal deal – available in Atrium Café, Library Café, The IV, Freemen's Kitchen & Bar and ULSB Hub.
Soul – Campus Kitchen – Percy Gee Building, Main Campus – Mac and cheese with a cheese and herb breadcrumb topping available here.

Norbert Rillieux (1806–1894) 
The sugar industry in the United States has Norbert Rillieux to thank for allowing them to become so powerful. Were it not for his inventions, making sugar would still be a time-consuming and dangerous process.
Originally, the sugar refinement process, known as "The Jamaica Train," was dangerous and expensive. Laborers (usually slaves) would transfer ladles of scalding hot sugar case juice between open boiling kettles, often resulting in scalding and terrible burns (anyone who's worked with sugar knows how painful it can be). The result was a dark syrup that was moulded into cones and dried before being sold.
From  1834-1843, Rillieux developed a system for refining and crystallizing sugar using a much safer and controlled method, allowing the United States to eventually dominate the sugar market. His process is still used today for freeze-drying food, pigments, and other food products.
Pastries, cakes and confectioneries are available in all outlets across campus.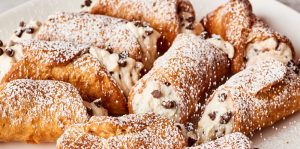 We have also added new dishes to Soul's menu for you to enjoy, starting from this month. You can use your UPAY here to get rewarded for your purchase.