Campus Kitchen is now open!
17th May 2021
| By Leicester Services Partnership
Your new food court on campus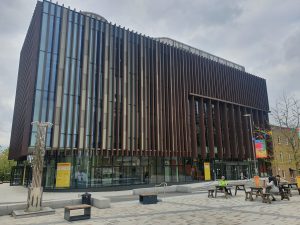 The Percy Gee Building extension is now complete and ready to welcome staff and students.
The completed development of the Percy Gee Building extension sees a brand-new food court providing a range of fantastic offering for all staff, students, and visitors to the University of Leicester.
Campus Kitchen was developed through customer research and feedback to encompass five new outlets, offering a variety of cuisines and tastes that excites customers.
Wholesome is the first 100% plant-based outlet on campus that provides a range of delicious vegan friendly, Asian inspired food and drink. As part of our ethical catering commitment, we recognise the responsibility to provide healthy and sustainable food and drink for our customers.
Craft Coffee House is built on tapping into Leicester's craft skills-based heritage of manufacturing and textiles through its brand while simultaneously providing ethically sourced barista-made coffees and high quality, flavoursome bites to eat.
Astrovan is a fully converted airstream van, that has already created a buzz with students on social media by taking loaded fries and baked crushed potatoes to another level, some say out of this world! The uniqueness of this outlet pays homage to the University's transformational project of the Space Park Leicester collaborative development.
Soul brings even more variety and diversity of food through its African and Caribbean inspired flavours and spices. Working collaboratively with the Students' Union African and Caribbean Society to create the outlet name and suggested dishes, plus with feedback from customers wanting more food choices on campus, this outlet brings spice, grilled flavours, and variety to the forefront.
Queens brings the taste of Italy to the University of Leicester, with hand-stretched pizzas topped with fresh ingredients and cooked in a matter of minutes in a large copper fitted wood-fired pizza oven. Italian patisseries are available to entice the sweet tooth which can be paired perfectly with Italian roasted multi-regional coffees.
Campus Kitchen, along with all other outlets on campus, have the NHS QR code system in place for customers to scan and check in with the NHS app, and all Covid-19 restrictions and guidelines have been strictly adhered to for your safety. You are required to wear a face mask when visiting.
Did you know?
The packaging your delicious food is served in within Campus Kitchen is either biodegradable, compostable and/or recyclable. LSP aims to always incorporate environmental, ethical, and social considerations into the products and services provided to you.
Feedback is essential for positive change. LSP would like to hear from you. To give your feedback once you have visited Campus Kitchen, click here.